Main Bathroom Renovations
Your main bathroom is always on display. That's why main bathroom renovations are a great way to give your whole home a facelift.
This is the focus point of the household when it comes to showers, soaks, and freshening up. It is often the most frequently used room in your entire house, so you want to it to look appealing.
There are many options to consider when it comes to renovating your main bathroom.
You may be looking to rearrange the layout to make it flow easier or be more user friendly?
Maybe you want to change the style by changing the fittings, fixtures or tilling to give it a more modern feel?
Or maybe you want to make an addition to the bathroom that is currently lacking such as a bath, spa or create a dual sink?
Whatever your renovation need, we can deliver.
At the end of the day your main bathroom needs to be functional to handle the high demand. Not only that, planning a renovation is a perfect time to make sure that it also looks great. We'll make sure all the boxes are ticked!
Give us a call to discuss your current bathroom concerns, limitations or just to get some fresh ideas on how your bathroom can be improved.
Single Bathroom Homes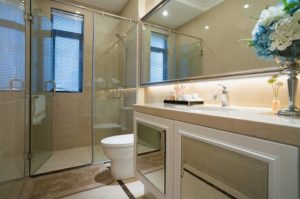 When you only have one bathroom in your home it needs to be fully equipped to handle all bathroom related requests. Reliability and practicality are vital. Showering, use of the toilet and freshening up are all necessities that should be handled easily under all circumstances.
If your household experiences constant bathroom clashing, you may consider adding a second toilet to your home to allow your household and guests an alternative option when the main bathroom is being used for showers.
Multiple Bathroom Homes
If your home has many bathrooms, your main bathroom is normally the largest and is often nearby a family room or lounge room. It is frequently used and has a high demand put on it.
Improve your home with a main bathroom renovation from our professional team of renovation experts. Also check out our other types of renovations.
Give Your Main Bathroom a Makeover
Main Bathroom renovations are a great way to increase value to your home.
Follow Us on Social Media: