A nicely renovated ensuite bathroom can be a peaceful retreat, doing wonders for your stress levels and overall comfort.
Being attached to one of the homes bedrooms, an ensuite allows the occupants of that bedroom to conveniently freshen up at any time of the day or night. There is also more privacy with an ensuite as house guests are more likely to use a main or guest bathroom as opposed to the ensuite bathroom.
Existing Ensuite Renovations
There are many options when it comes to renovating your existing ensuite. We can often achieve great outcomes from simple changes. The replacement of fittings and fixtures or a new vanity are some examples. Also the addition of new tiles can provide dazzling makeover effects. For more information, visit our page on Bathroom Tiling.
Of course this all depends on the current state of your ensuite right now and what you would like to achieve. If you don't like your current ensuite bathroom design then we can create a whole new layout design for you.
This may be the perfect time to consider the addition of a new spa. A spa bath can give your current ensuite an amazing fresh new feel while also creating a place where you can lay back, relax and escape the stress of everyday life.
New Ensuite Additions
If you currently don't have an ensuite for your master bedroom or want to create a new ensuite for another bedroom in your home we are your perfect team.
Allow our designers to help you create the perfect ensuite solution with your available space. Then our renovation team of builders and tradesmen will build your new bathroom addition to your liking. Let us take care of everything from start to finish.
Master Bedroom Ensuite Renovations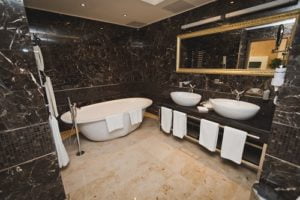 Your master bedroom ensuite should be a private place reserved for you and your partner. You can afford to have a romantic feel to this place as it usually should not be used by any guests coming into your home – unless as a last resort.
Think about what your ideal ensuite would include and how it would feel. By simply selecting descriptive words our expert designers can help create the mood and atmosphere that you want to achieve.
A large spa bath that can fit two people provides you with an opportunity for romantic times together. You may also consider a his and hers sink and mirror to allow you both to use the bathroom to freshen up in the morning together or when you are getting ready for a night out.
Get creative and ensure your ensuite bathroom renovation contains the right mix of elements to strengthen your relationship.
Guest Bathroom Ensuite Renovations
If your house is large enough to encompass a second or third ensuite bathroom then ensure they too are practical. A renovation may be needed to refresh and modernise some bathroom features or just to realign the flow with the rest of the house.
A simple ensuite bathroom renovation may be just the thing you need. Give us a call now to discuss your options or check out our other bathroom renovation types.
Ensuite Renovations to Spice Up Your Life
Gain comfort, luxury and privacy with an ensuite renovation.
Follow Us on Social Media: